On Christmas evening at 9pm ITV will air Mairgret's Dead Man. The latest in ITV'S feature film adaption of Georges Simennes classic detective novels and short stories, Mairgret.
Following Maigret Sets a Trap, aired Easter Monday this year, Rowan Atkinson returns in another gripping 2-hour mystery, uncovering deadly lies and rebuilding shattered relationships.
Here is a taste of Stewart Hardcourts' screen transformation of the 29th novel in the Maigret series,
Maigret Et Son Morte.
The Arts Desk critic Aleks Sierz calls The Red Barn a "superb adaptation of a Simenon thriller".
"There's a real sense of revelation as the evening progresses" says Sierz of Sir David Hare's adaptation, after the play debuted at the National Theatre on Monday 17th October.
The review goes on to describe the play as a "superbly compelling production", and one with "the power to surprise at every turn".
Find the full review HERE
The Independent adds its own positive review to those of The Daily Mail and The Telegraph
Having attended the opening night of the play, The Independent's Paul Taylor pronounces that strong performances from an enviable cast render The Red Barn "a taut, compelling and psychologically acute stage version of La Main".
Of the cast, Taylor notes that "The impossibly elegant Elizabeth Debicki […] exudes, like an expensive perfume, the emotional carelessness of the privileged", while Mark Strong "excels" in the role of Donald Dodd.
Click HERE to read more
Marilyn Kingwill of The Times gives The Red Barn four stars
Adding to the plaudits heaped on Sir David Hare's adaptation of La Main, Kingwill states her belief that this is "a thriller that would make Hitchcock proud".
The review compliments the director Robert Icke's "cinematic approach" , adding that Mark Strong "gives one of the performances of the year".
Read the review HERE
The Telegraph's Dominic Cavendish waxes lyrical about The Red Barn.
According to Cavendish, The Red Barn's "astounding stage-design […] discloses a range of beautifully realised period interiors" and succeeds in creating "a cinematic fluidity that seems to defy logistical possibility".
The review goes on to praise the direction of "whizz-kid" Robert Icke, who makes "his NT debut in sensational style".
Click HERE to read the full review.
Quentin Letts revels in the opening night of The Red Barn, a theatre adaptation of Georges Simenon's Le Main at the National Theatre.
Letts' review highlights Elizabeth Debicki's compelling performance and Sir David Hare's tight script, saying of THE RED BARN: "Filled with tension, this chiller thriller's ice-cool".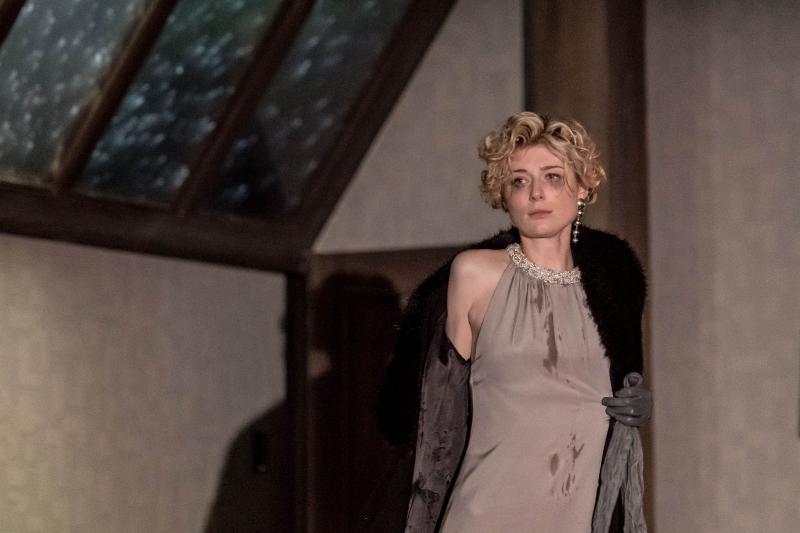 Read the full Daily Mail review HERE 
Yesterday's Guardian article explains the selection process of  of the new Penguin editions of the classic detective novels by Georges Simenon from legendary Magnum photographer Harry Gruyaert's work.
Follow the link for the full article HERE