On Christmas evening at 9pm ITV will air Mairgret's Dead Man. The latest in ITV'S feature film adaption of Georges Simennes classic detective novels and short stories, Mairgret.
Following Maigret Sets a Trap, aired Easter Monday this year, Rowan Atkinson returns in another gripping 2-hour mystery, uncovering deadly lies and rebuilding shattered relationships.
Here is a taste of Stewart Hardcourts' screen transformation of the 29th novel in the Maigret series,
Maigret Et Son Morte.
The Arts Desk critic Aleks Sierz calls The Red Barn a "superb adaptation of a Simenon thriller".
"There's a real sense of revelation as the evening progresses" says Sierz of Sir David Hare's adaptation, after the play debuted at the National Theatre on Monday 17th October.
The review goes on to describe the play as a "superbly compelling production", and one with "the power to surprise at every turn".
Find the full review HERE
The Independent adds its own positive review to those of The Daily Mail and The Telegraph
Having attended the opening night of the play, The Independent's Paul Taylor pronounces that strong performances from an enviable cast render The Red Barn "a taut, compelling and psychologically acute stage version of La Main".
Of the cast, Taylor notes that "The impossibly elegant Elizabeth Debicki […] exudes, like an expensive perfume, the emotional carelessness of the privileged", while Mark Strong "excels" in the role of Donald Dodd.
Click HERE to read more
Marilyn Kingwill of The Times gives The Red Barn four stars
Adding to the plaudits heaped on Sir David Hare's adaptation of La Main, Kingwill states her belief that this is "a thriller that would make Hitchcock proud".
The review compliments the director Robert Icke's "cinematic approach" , adding that Mark Strong "gives one of the performances of the year".
Read the review HERE
The Telegraph's Dominic Cavendish waxes lyrical about The Red Barn.
According to Cavendish, The Red Barn's "astounding stage-design […] discloses a range of beautifully realised period interiors" and succeeds in creating "a cinematic fluidity that seems to defy logistical possibility".
The review goes on to praise the direction of "whizz-kid" Robert Icke, who makes "his NT debut in sensational style".
Click HERE to read the full review.
Quentin Letts revels in the opening night of The Red Barn, a theatre adaptation of Georges Simenon's Le Main at the National Theatre.
Letts' review highlights Elizabeth Debicki's compelling performance and Sir David Hare's tight script, saying of THE RED BARN: "Filled with tension, this chiller thriller's ice-cool".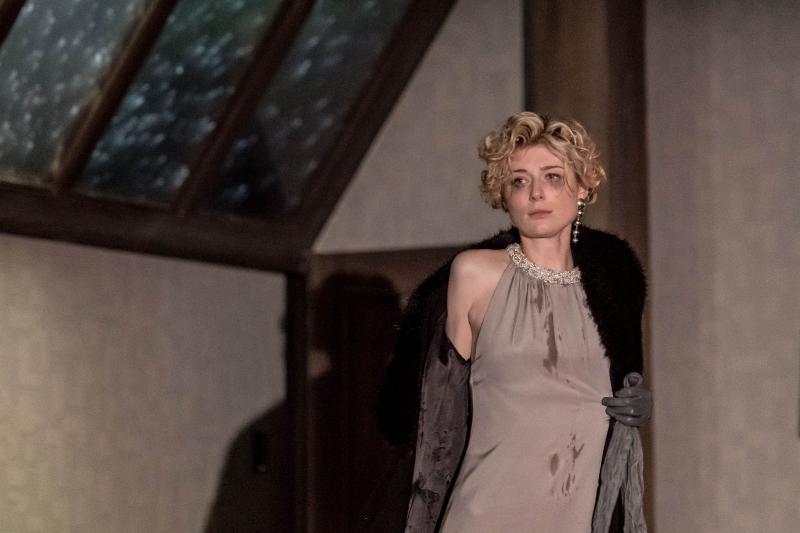 Read the full Daily Mail review HERE 
I've been on a Georges Simenon mini-kick lately. I had read an assortment of Maigret novels over the years but the sheer size of his backlist — 500 novels, even if many of the novels barely top 150 pages — daunted me, and those Maigrets I did read were, quite frankly, easy to digest and all the easier to forget. Looking for the quality needles in a quantity haystack seemed more arduous than necessary.
But then I read Dirty Snow, Simenon's 1948 roman dur that truly is as good as advertised, as well other durs like The Blue Room (1963), The Mahe Circle (1944), and M. Hire's Engagement (1933). And over the weekend I ripped through his 1970 memoir When I Was Old, a (seemingly revised) collection of his notebook jottings between 1960 and 1962, at a time when he said he felt the onslaught of older age upon him and became fearful over a decline in productivity, "only" able to produce 3-4 novels a year rather than the dozen (or, in his pseudonymous pulp days of the 1920s, several dozens) that was his habit.
One of our favourite book bloggers, Ellie from the wonderful blog Lit Nerd, has written about her experiences reading Georges Simenon for the first time.
After having read Georges Simenon's mystery novel The Blue Room, Ellie was curious to find out more about the author and especially since, as she mentions, 'he was everywhere.'
She chose to start with two of the most well-loved Simenon works, Maigret's Holiday and Maigret Sets a Trap. Thanks to them, she was finally introduced to the mysterious detective and she now admits she is 'very excited about getting to know him more.' and is 'completely addicted.'
To read the whole blog and the review click HERE.
Maigret Sets A Trap and Maigret's Dead Man are two stand-alone dramatic films featuring the legendary French fictional detective Jules Maigret, played by the globally-renowned actor Rowan Atkinson. John Simenon, Georges Simenon's son, acts as executive producer for the show. In this interview, he discloses some of the secrets of the series. 
How did these two Maigret films come about?
The underlying rights to my father's work belong to Georges Simenon Ltd and its subsidiary, Maigret Productions Limited, are co-producers, together with Ealing with Barnaby Thompson co-exec producing. There were several projects being proposed to us at the time, including from France but Barnaby's was the most promising.
Tell us about your father as an author and what he created?
Maigret represents 75 novels and 28 short stories out of a total production of 350 literary works. All the other works are non-Maigret. They are what some would call psychological noir novels. My father started working as a writer in the early 1920s around the age of 20 and he learned his trade for about 10 years, churning out what he called popular pulp novels under pseudonyms. When he felt he was ready to publish something in his own name, he went for what he thought was the easy way into literature, which was the detective novel. He explained that when your main character is a detective who can know everything and do anything, it's like a prop to lean on. My father was not attracted by plot. He was attracted by people. His interest lies in human behaviour and the human soul. There are two short ways to characterise the Maigret novels. One is to say Maigret does not solve crimes but solves people. And the other is to say his stories are not whodunits but whydunits. That is what I would say defines Maigret in a nutshell: his empathy, his interest for other people. Maigret is not a hunter like the traditional policeman. All policemen will tell you they are hunters at heart. Maigret is not a hunter, he is an explorer who tries to be, in my father's words, a "repairer of destinies". In terms of readership, my father has been translated into about 55 languages and is reported to have been read by more than a billion people. He is definitely one of the most adapted authors of all times as his stories have been adapted at least 450 times, some many times over. Not only all the Maigrets but a great many of the others.
Is that focus on human nature the reason why the stories have endured and translate so well to a modern day audience?
I believe it is. It's about the human condition and what my father called 'the naked man', separate from all the particularities of time, space and other circumstances. The man that existed ten thousand years ago and that will hopefully still exist ten thousand years from now. The core of what people are all about. His stories take place in the 1950s and 1960s and in the 1930s and 1970s, so they span pretty much most of the last century. The nexus of his stories is valid in any country and at any time. Because people are people and they don't change that much. That's why, I believe, he is translated so much, why he still endures, why he is so adaptable. The characters he writes about are gold mines for actors who often come to me and ask if they could play this or that particular character. To them, his characters embody everything they want to express in their own art. Plots can change with time. Human beings don't. Further, his writing style is very concise and very evocative. When you read Simenon he speaks directly to your heart, not to your brain.
What sort of father was he? What are your memories of him?
Just an ordinary father. Key to our relationship were our regular long walks together during which we would discuss just anything. As a 10-year-old, then as a teenager, every day I would go for these long walks with him. I think they gave me a very intuitive knowledge of who he was. I can't remember every single conversation. But I can remember some of the stupid things I would tell him. And that I'll keep for myself.
Was there a moment when you realised how famous he was?
I always knew he was famous. It's part of your life so you don't see how special it is. If you grow up in circumstances where each time you say your name, people say, 'Oh, you mean Georges Simenon?' or something like that, that's your normal environment and you don't question it. You don't really realise what it means until you become older and start having a life on your own. But even then it never struck me as much as when I began to manage his literary estate. It's only then, when I saw the numbers, that I really gauged the incredible depth of his success.
"But the first turning point came when I started reading his novels as a grown up. I was about 35 when I rediscovered them, and my reaction was the same as anybody who gets into Simenon and becomes hooked on his writing.
What do you think of Rowan Atkinson's portrayal of Maigret?
I don't doubt people will share my feeling that Rowan Atkinson is probably going to be one of the truest Maigrets ever. Because he really expresses a unique sensitivity to others, an empathy that is so important. Which is much more important to me than anything else. These are physical attributes on which my father relied to establish Maigret at the very beginning. But then if you read the more recent Maigrets – those written after the war – you don't see that many such descriptions of him. It's part of the background. What is really important is his empathy, which is present from the first story in 1930 to the last one in 1972. A lot of what happens with Maigret works inwards. The challenge for Rowan was to express that. Not necessarily in words but also in behaviour and body language.
These two films are set in 1950s' Paris. What does that period bring to the story and drama?
First it brings novelty. I don't think there are many shows that take place in such time and location. It is very exciting because that was the eternal Paris we all love. It was a time of growth and people wanted to forget the war. There were still many scars from the war but people were optimistic. It was probably one of the last moments in the last 70 years when French people were optimistic and looking forward and open and excited about their future. It was also a time when most violence was somewhat 'ordinary'. Not that I consider any violence acceptable, but terrorists or big Mafia were not yet what they are today.
In terms of the authenticity of the character, are there certain things Maigret does not do?
Maigret almost never draws a gun, let alone shoots one. In the whole history of the saga I think he has probably shot his gun less than 5 times in 103 stories. Maigret also never drives as he doesn't have his license. For Rowan that must be frustrating! He takes cabs all the time or is driven by his team. He also smokes the pipe and is certainly not a teetotaller.

How would you describe the relationship between Maigret and his wife, Madame Maigret, played by Lucy Cohu?
Their relationship is really one of 'complicité', in French. The English word 'accomplice' doesn't fully express the same thing. She is very supportive but has a mind of her own. It is a secure relationship. They have a very strong bond and are simple people. They go to the movies and will hold hands doing that. They also have that little house by the Loire river where they like to go for vacations. They are very settled. But Madame Maigret is not subservient. It is also clear that they share the same bed. But what makes Maigret a little special is that I always think of Maigret and Madame Maigret almost like parents. You know it happens, but you don't want to see it. So it was important for me that Lucy and Rowan be credible in that relationship and express the great level of tenderness that exists between Maigret and Madame Maigret. I think this comes across very well. Rowan and Lucy are a good match. And Lucy looks very much like the Madame Maigret my father described many times. She is terrific.
Do you have a cameo in either of the films?
Yes, in the final scene of the first film. To illustrate Paris in the 1950s, Ashley Pearce, the director of Maigret Sets A Trap, chose a collection of 50s photographs which he recreated in the film as establishing vignettes of the streets of Paris. One of the pictures was that of a man reading a book to a young boy on a bench in a park, and that is what I played. But it could end up on the cutting room floor.
Why film Maigret in Budapest?
Recreating Paris in the 50s requires special effects irrespective of where you shoot, but strangely enough, less so in Budapest, where many places are architecturally very similar to Paris, and which is also much less expensive.
The Simenon name is known worldwide. Has it led to any striking encounters?
Two which really struck me. When I was 23, I went to Japan for the 1970 World Fair – Expo '70. You didn't have cell phones then, so you had to make calls through the operator. One day in Osaka, I asked the Japanese operator to get in touch with my father, giving his name and number, and she said in French, 'Simenon? Georges Simenon the writer?' That, I must say, was really quite a surprise. And the other one is much more recent. I was travelling with my family in Utah. We arrived at one of those truck stops in the middle of absolutely nowhere. Just a cross between two highways. So I walk into this remote motel at 10 o'clock at night and the night watch lady was reading a Simenon book. That was wonderful.
Why do readers and viewers love Maigret?
You do escape into a different world, but Maigret also brings you back to yourself – which does not necessarily happen with other detectives. You know you could be part of that story while you read it. It's not something so divorced from your own life. You feel it's something that could happen to you or people you know. Not the crimes themselves. I'm talking about the human circumstances Maigret investigates. They remind you sometimes of things you have lived through or seen in your own life. My father's villains are never absolute evils. They all have some humanity in them. My father didn't believe in pure evil. He was interested in what turned ordinary people towards crime. A serial killer has no excuse for what he has done. Neither Maigret nor my father will let him escape his responsibility, but he's still a human being who was once a child and was also quite likely the victim of something else. And I think people understand their empathy for such situations.
What does it mean to you that in 2016 people still love and appreciate the work of your father?
It's a great gift. I don't take it for granted. It's a tribute to his talent, his universality and also to the man he was. So many things have been written about him, he was not an easy man. But he was a good man. Not in the sense of a gentle uncle or whatever. He was not that. He was not always reassuring. He had a lot of anxieties. But his sense of ethics was very high.
Another round of reviews for ITV's adaptation of one of Georges Simenon's favourite stories, Maigret Sets a Trap.
Maigret's Rowan Atkinson features in The Mail's Weekend magazine – TV Talk:
Matt Rudd of the Sunday Times explains why he enjoyed the first installment of the two-episode adaptation of Maigret.
Read the full article HERE
Euan Ferguson of the Guardian defends the main actor's performance, especially emphasizing his versatility.
'What of Rowan Atkinson, as Maigret? I thought he was terrific as far as it went. Deeply subtle, and his shtick was not clues but psychology.'
Find the review HERE